May Update on Solar Lanterns for Tana Students
By Oscar – Volunteer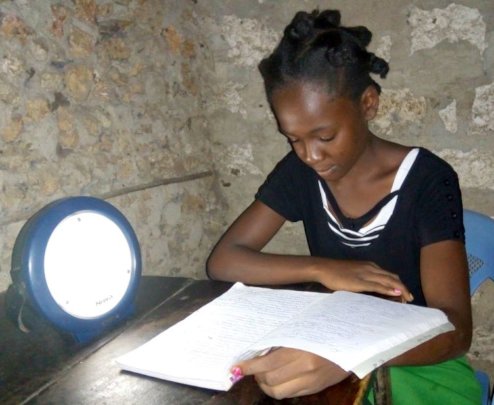 Patricia studying at home
Greetings all,
This quarter of the year we have been affected with floods where 70% of Tana River County is being covered with water due to the current floods problem in the Country. Being in the Delta, we have been the most affected county.
However, we managed to get testimonials from Patricia and Ali as quoted below.
"My name is Patricia from Vumbwe village. I am 15 years old. When I was still a student at Kulesa primary school last year I received a solar lamp from Tana River Life Foundation. I am taking this opportunity to say thank you to all of you for assisting me with the solar lamp.
Before I had the lamp, it was not easy for me to wake up in the morning for preps because there was no available source of light. It was difficult to use the lamp because of the cost of paraffin and it was a daily expense my family could not afford.
Besides providing more study hours, the solar lamp also helped my parents earn some income in charging our neighbours hand phones, which helped them pay for my exam fees. I did well in the primary school leaving exams last year and am now fully sponsored by Tana River Life Foundation in Form 1 (Year 9) in Sacred Heart Girls Secondary School in Mpeketoni, Kenya.
Thank you all again.
Patricia John"
And Ali wrote
"I am Ali from Bubesa village in Mwina Location of Tana River County Kenya. My mother and brother are farmers. My father is mentally not well. I had many challenges when studying in primary school. We live in a small mud hut. Where we live, when it rains, our walls may be washed away and need to be repaired.
After school I have to help my mother look for firewood and fetch water and so have little time to do my homework until night time but there was no light at home. I continued with those challenges until by good fortune I received the solar lamp from Tana River Life Foundation. I was now able to do night preps and complete my homework. So even if I could not do my studies during the light time, but at night I was able to study without fail.
It also helped my parents as I was studying at night, the lamp allowed my mother to cook and do other things at home like weaving mats. After my primary school exams, I did not do as I expected, but the results was still good. I am now in Form 1 at Tarasaa High School and am partially sponsored by Tana River Life Foundation. I now know that in all hardship there will be relief. I want to be a lawyer to help my people know their right. Thank you all very much.
Ali"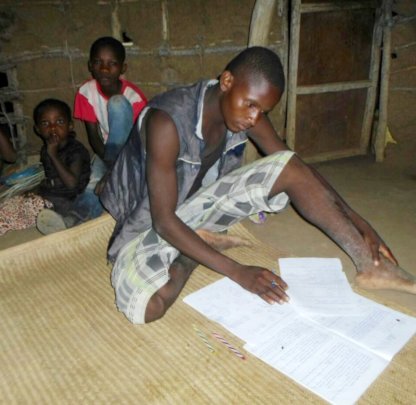 Ali completing his homework using solar lantern
On a scale of 0 to 10, how likely are you to recommend this project to a friend, family member, or colleague?
Updates are posted directly by Project Leaders, and to make your experience as authentic as possible, GlobalGiving does not alter these updates – they are the real deal.
About this project:
Solar Lanterns for Tana Students

by Tana River Life Foundation

Rural schools in the Tana Delta have been usually left out from development plans the communities live off the grid as the power infrastructure doesn't reach their villages. Without light, students are unable to study nor do homework when the sun goes down. Providing solar lanterns will be enable students to do their homework in the evenings, providing them the opportunity to do better in national examinations. Beneficiaries are upper primary students in Class 7 & 8, aged between 12-15 yrs

Filed under: Solar Lantern, Tana River Life Foundation | Tagged: Education, kenya, projects, self-sufficiency, solar |